Calafell Slide
Fun and action for the whole family The giant toboggan slide, 700 meters of fun and action for the whole family.
Prices
About Us
Fun and action for the whole family The giant toboggan slide, 700 meters of fun and action for the whole family.
Calafell Slide is a
giant summer slide with a length of 700 meters
and is located in the Escarnosa Mountain, in front of the old town of Calafell, an hour by car from Barcelona, ​​half an hour from Tarragona and only 20 minutes from Vilanova i la Geltru.
A trip in Calafell Slide is easy, fun and safe! The user controls the speed of the trip at all times, enjoying the speed and the feeling of gravity when cornering.
Handling the sled to accelerate and brake is so easy that 8-year-olds can now ride alone. Children from 3 to 7 years old must be accompanied by an adult. So fun is guaranteed for the whole family. A trip costs only € 3, and there are discounts and offers!
In Calafell Slide we have a
terrace with beautiful views and a bar
where cold drinks and tapas are served. It is the ideal place to spend a good time together with family, friends and in a group.
We also organize children's birthday parties and there are special offers for school trips, sports clubs, etc.
Advance reservations are not required for groups of less than 10 people. Only come during opening hours. Please contact us for birthday parties and group visits with more than 10 people.
History of Calafell Slide
Calafell Slide was built and opened in June 1989 by Swiss Hans Zimmermann and has been run by his son Roy since 2007. The summer toboggan run is a product of Wiegand Slide in Germany. They have been manufacturing and installing this popular attraction since 1977 and there are now more than 250 similar slides around the world. However there is only one such attraction in the entire Iberian Peninsula so this is your exclusive opportunity for a family day out if you come to try this activity from Barcelona, ​​Tarragona, Vilanova i la Geltru or any other major city in the area!
Our priority is safety, because without safety, there is no fun. We regularly check and maintain all technical parts of the installation and are inspected and certified by TÜV Thüringen and Germany is well known for its extremely high quality standards.
Calafell Slide is also equipped with a photo camera that records the speed of each participant. This is a great tool for your group to set up a competition to see who can run the fastest. Add a ton of excitement and excitement to this fun activity for kids and adults. You are offered to buy the photos for an additional 3 euros if you wish.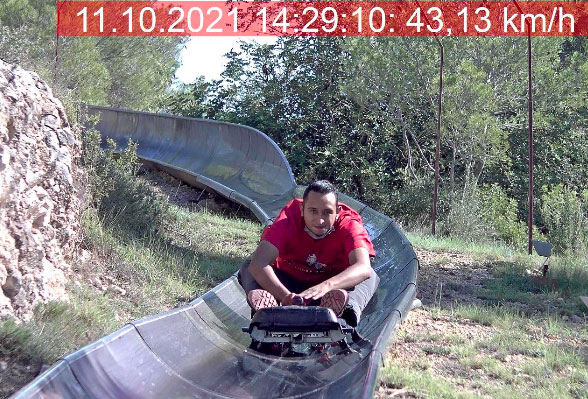 Giant Toboggan Slide
700 meters of fun and action for the whole family.
Prices
Check here the prices of tickets and vouchers.
School
Information on how you can arrange a school trip to the Calafell Slide Giant Toboggan.
Birthday Party
Celebrating Birthdays at Calafell Slide is fun for the whole family.